북미 체로키족 전설이다. 옛날에 대단한 장모와 대단한 사위가 있었다. 둘 사이에는 대단한 딸도 있었다. 3자간 갈등이 있었다. 이들에게는 무슨 일이 있었던 것일까.
모녀는 숲에 살고 있었다. "짐승 잘 잡고 월급 많이 타오는 사냥꾼이랑 결혼해야 한다이." 딸이 과년한 나이가 되자 엄마가 지겹게 말했다. "그럼유." 딸도 호응했다.
어느날 밤, 어떤 거구의 사내가 딸의 잠자리로 스며들었다. "엄머엄머! 뉘시랴!" 이후 남녀는 사실상 부부가 됐다.
"절대 안뎌!" 엄마는 둘의 결혼을 반대했다. 사위의 얼굴도 보지 않으려 했다. "이미 부분디 뭔 소리랴!" 딸은 부르르 혼인신고를 해버렸다. 부부는 좀 떨어진 곳에 오두막집을 짓고 신접살이를 시작했다.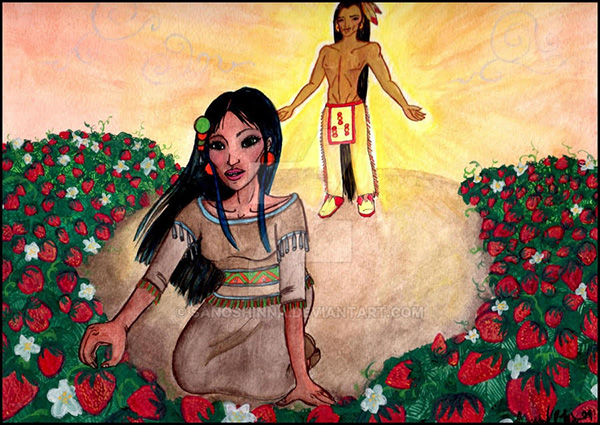 "쳇, 딸기 농사꾼이여? 딸기는 좀 따가께잉."
알고보니 사위는 고시 패스한 사냥꾼이었다. 사위는 장모 눈을 피해 사냥한 짐승을 장모에게 갖다 바치곤 했다. 장모도 점점 어둠 속에서 충성하는 사위가 마음에 들었다.
그런데 독자여, 놀라지 마시라. 장모는 그때까지 충성하는 사위의 얼굴을 단 한 번도 본 적이 없었다. 사위는 밤에도 야근, 낮에도 야근이었다. 해가 지면 집에 오고, 해 뜨기 전에 집을 나갔다. 그러니 얼굴 볼 기회가 없었다.
"사우 얼굴 한번 봐야 쓰겄다!" 엄마가 딸을 압박하기 시작했다. "얼굴 보구 살간디? 기냥 씩씩허게 생겼쓔." 딸은 요리조리 피했다. 옛말에 어미 이기는 딸년 없다는 말이 있는지 모르지만, 결국 딸이 양보했다.
"엄니, 사우 얼굴 뵈드릴팅께 대신 약속 하나 혀." "그려" "뭔 약석인지두 모루문서 그려라니유?" "그려, 뭔디?" "엄니 사우넌 기냥 씩씩허게만 생겼응께....." "하이고, 인멀 떧어먹구 살 것두 아닌듸. 그려그려." "혹시 이혼하라고 지랄하문 안되여이?" "알았당께!"
그리하여 장모는 어느날 아침 마침내 어움 속에서 충성하는 사위의 얼굴을 보게 됐다. 사위의 생김은 씩씩하다 못해 끔찍했다. "으악!" The mother cried out, "Tsul 'Kalu! (literally, "He has them [i.e., his eyes] sloping!").
사위는 "내 이럴 줄 알았다"며 불같이 화를 냈다. 사위는 집을 나가버렸다. 이제사 말씀 드리지만 딸은 그때 임신 중이었다. 몇 달 뒤 딸은 딸을 출산했다.
바람결에 아내의 출산 소식을 들은 남편은 집으로 돌아왔다. "여보, 장모님이 우리 옆에 있는 한 우린 편히 살기 힘들 것이여. 애 데리고 어디론가 떠나서 우리끼리 잘 먹고 잘 살아보자구." 아내는 동의했다.
딸은 다음날 친정집을 찾아가 엄마에게 말했다. "엄니, 우린 같테니 잘 먹고 잘 사슈." 그리곤 다시는 돌아오지 않았다.
이 전설의 교훈은 무엇일까. 어떤 경우에는, 장모와 사위는 떨어져 있을수록 좋다는 것이다.

(부록)

사위
Tsul 'Kalu. an ape-like creature from Cherokee mythology. in some legends a hairy giant.

이름의 뜻
In the Cherokee language Tsul 'Kalu means "he has them slanting/sloping". Tsul 'Kalu=literally, "He has them [i.e., his eyes] sloping.

서식처
Tsul 'Kalu is believed to live in a place called Tsunegun'yi which is a 100-acre cleared patch on the side of a mountain which many believe he cleared himself.

난데없는 퀴즈, 전설에서 가장 첨예하게 드러난 갈등은?
1.장서갈등(丈壻葛藤) 2.모녀갈등 3.부부갈등 4.남녀갈등

(전설)

여러 버전이 있는데 기본 스토리는 '장모를 버린다'는 것이다. 본문엔 차마 쓰지 못 했는데, 심지어 딸이 애를 낳자 장모 겸 친정엄마가 강에 버린다는 이야기도 있다. 애 아빠가 찾아오자 당황한 딸이 "엄마가 버린 것은 애가 아니라 생리대"라고 둘러대기도 한다. There is no child, the girl told him, just menstrual blood that her mother threw into the river. 친정 오빠가 등장하기도 한다. 자, Here's a story about a Native American woman who fell in love with a Bigfoot named Tsul Kalu!!

Legend 1
According to Cherokee legend, a widow wanted her daughter to marry a hunter, though the daughter herself loved a mysterious unseen stranger. One night the invisible stranger brought food to the daughter's mother, and asked for her daughter's hand. When the mother told her daughter to ask the stranger for wood, he brought them huge uprooted trees rather than logs and branches. Her mother was terrified and furious, saying that he must be some kind of monster, and the next time he came, he brought her nothing. Nevertheless, the daughter married the stranger over her mother's objections. and he lived unseen with them in their lodge, departing every day before sunrise, bringing home food and goods after sunset, and sleeping with his wife at night. When, after some time, the mother insisted on seeing him, he promised to show himself if the mother promised not to object to his appearance. By the light of morning, however, he appeared in terrifying form, gigantic of stature, very misshapen, and with eyes glowing and slanted like a fox's or cat's—whereupon the mother cried out, "Tsul 'Kalu! (literally, "He has them [i.e., his eyes] sloping!"). Tsul 'Kalu swore never to show himself to the daughter's mother again and vanished. Several months later, when the girl gave birth, Tsul 'Kalu returned to his wife in the night to convince her to come back to his new home with him. The next morning she told her mother she was joining her husband, left her village, and was never seen again.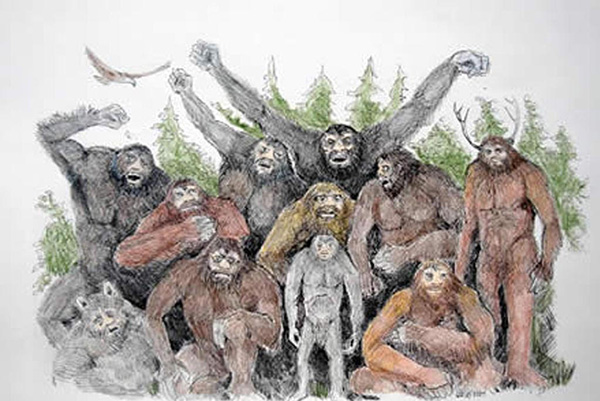 Legend 2
Long ago, a young woman—of age to marry—lived with her widowed mother. Her mother counselled her to be patient in settling with a mate; a good hunter, though hard to find, was essential to ensure that she and her daughter would be cared for and well-fed.
The young maiden slept in an asi outside the main home at night. One night, a stranger paid a visit in hopes of courting the girl. She made it clear that her mother would only allow her to keep the company of a great hunter. Declaring himself to be a great hunter, the girl allowed him inside and he spent the night. He left before daybreak; when the morning came, there was a freshly killed deer waiting for the girl and her mother.
He returned the following night and stayed with the girl. Again, he left before daylight. This time, there were two deer waiting for the girl and her mother. The mother was very pleased with her daughter's new sweetheart. She said, though, that she wished he would bring them some wood. The next morning, there were several large trees in front of the house—entire trees, including the roots. This angered the mother and she told her daughter that she wanted smaller wood that could be used. The next morning, there was nothing waiting for the pair; instead, the land had been cleared of its trees.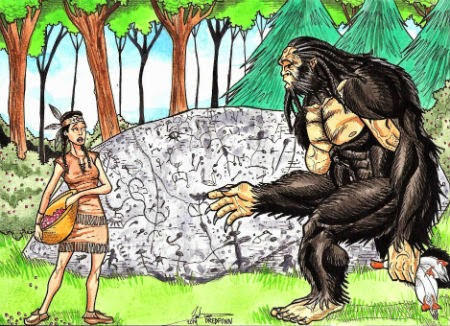 Every night he stayed with the girl; every morning he left before daybreak. There was always a game animal waiting for the mother and her girl. The girl's mother became frustrated; she desperately wanted to meet her new son-in-law. The girl told he husband of this, but he did not want her mother to see him. She began to cry and finally, he relented. However, he warned the girl that her mother must not say that he looked frightful.
When morning came, the girl brought her mother to the asi where her new husband lay. The mother peered and saw a giant with long, slanting eyes; he was so large that he barely fit in the small asi. The mother fled and cried out, "Usga' se ti' yu," which means frightful. The giant was enraged and he left vowing to never let the mother see him again. He returned to his homeland.
Eventually, Tsul 'Kalu returned for his bride and brought her back to his home. The girl had a brother who lived in another village and wished to see her and meet his new brother-in-law. When he arrived, they were gone and his mother explained what had happened. Feeling pity for his lonely mother, he went to find his sister in hopes of bringing her home.
It was easy to track his sister and Tsul 'Kalu; the giant left enormous footprints on the ground that led him to the mountain where Tsul 'Kalu lived. In the side of the mountain, there was a cave where he saw his sister and others dancing. It was too steep for him to reach; he called out for his sister and she came and met him. This happened a number of times but she never invited her brother inside. He also didn't get to see his new brother-in-law.
Four years later, the girl came home for a visit while Tsul 'Kalu was out hunting. She told her mother and brother that she and her husband would be leaving in the morning but if they wanted to see him before he left to come out early in the morning. If she and Tsul 'Kalu left before they got there, the great hunter would leave meat for them. Morning came but the giant and his bridge were gone. As promised, freshly killed deer were hanging. In fact, there was enough meat to feed the entire village.
The people of the village also wanted to see the great Master of Game, Tsul 'Kalu. Tsul 'Kalu, a booming, unseen voice from the sky, spoke to his brother-in-law and told him that no one could see him until they were dressed in new clothes. He instructed the people to meet in the communal house and fast for seven days. At the end of seven days, he would provide new garments for everyone and allow himself to be seen. There was a caveat: no one was to leave the townhouse or raise the war cry.
As fate would have it, the giant's orders were disobeyed. The people stayed in the communal house and fasted for an entire week. There was one person among them—from another village—who left each night to get something to eat. On the seventh day, this same man fled the townhouse in fear when a loud sound kept getting nearer—the sound of rocks crashing down a mountain. As the disobedient man fled, he sounded the war cry. With that, the sound disappeared; Tsul 'Kalu did not show up to reveal himself to the people.
The giant's brother-in-law returned to the mountain and asked why he did not come with the new clothes. Tsul 'Kalu answered, "I came with them, but you did not obey my word, but broke the fast and raised the war cry." The brother-in-law explained that it was a person from another village who transgressed and pleaded with Tsul 'Kalu to reconsider. He would not be swayed, however, he said, "Now you can never see me."
관리자 freemediaf@gmail.com
<저작권자 © 자유언론실천재단, 무단 전재 및 재배포 금지>